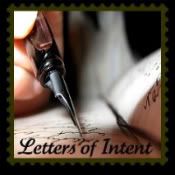 Linking up with Julie again over at
Foursons
for this Friday's edition of Letters of Intent! Go check out more "letters of intent" by clicking the picture!
Dear 8 year old son,
I do not understand this whole getting up at 5am thing. Sometimes you're up as early as 4:30am! This is insane. Surely you must realize this. It also doesn't make for a very nice day for us. By the time you get home from school you are a complete and total terror. You spent 2 hours last night after dinner crying because it was to late for you to go to a friends house. Towards the end of your tantrum you just kept repeating "I'm just so tired." If you didn't get up at that god awful time in the morning you wouldn't be! Why you feel the need to not close your eyes again once you wake up and go back to sleep is beyond me. For the sake of my health and your life you may want to rethink this though.

Your loving mother
Dear warmer weather,
Could you please come back and grace us with your presence? It was very rude of you to show yourself for almost a week and get everyone all excited and then disappear. I brought out all the spring/summer clothes and everything! Do you know how hard it to tell tell your kids they can wear shorts for a few days then tell them they must go back to jeans and long sleeves?! Yeah, isn't very pleasant. I realize it's only the end of March, but once you show up, you really shouldn't go away. Mean! Just plain mean!
Warm weather loving person.
Dear Junk Food
Why must you taste so good? Please make yourself disgusting.
Lady who is trying desperately not to eat you