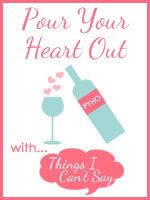 I'm linking up again this week with Shell for Pour Your Heart Out. Read my blog then go read others who are pouring their heart out too.
So the last day of school for my boys is today. Yes I know everyone else's kids have been out of school f.o.r.e.v.e.r, Yes I know they've had a very long school year. Add to the fact that we moved mid school year and they started a brand new school in a brand new state and I'm sure the year has felt even longer to them.
But see this winter we had the "blizzard of 2010" and they ended up out of school for almost 2 weeks!! Every other school district in the state requested a waiver of missed days so they wouldn't have to make them up. Not our school district though. Nope, they decided they would make up ALL but 1 day. So my kids have been in school almost 2 weeks longer than every other school district in the state. But that's beside the point, and I've gone off on a tangent :P
As I was saying, today is the last day of school. My boys get out of school at 12:55 today. I read all these other posts about how happy people are that the kids are on summer break and how much fun their going to have this summer. That is not me. As happy as I am the kids are out of school, I am not happy for me, I am happy for the kids! I remember being a kid and just getting so excited about summer break and being so happy that school was over for the year. So I am not ruining that for them. I'm
thrilled
that school is out for them. I'm so happy that they finished this very hard year on top of everything that has happened. Not only did they "finish" but they finished on TOP. Perfect grades, perfect behavior. Absolutely no trouble, and they have made a lot of new friends.
But I can
not
look forward to having the kids home all day. I can
not
look forward to the fighting, the yelling, the screaming, the tantrums. I
love
when the kids go off to school and the house is quiet for the day. I'm able to run my errands by myself and get everything done that I need done without fighting and without having to bribe someone to be go somewhere or be good while we're in the store.
Because of all of this when my mother in law asked last year if she could keep the two older boys for the summer break (she lives almost 4 hours away) I didn't hesistate for a second to say "Heck yeah!". The boys were gone last year from the end of June till the middle of August. I had Avery here, but he's a lot easier to deal with by himself!
This year when my mother in law asked yet again to keep them for the summer again I didn't hesistate to say "heck yeah!"
But
this time I asked my husband if we could do a family vacation before we send them off. So next week we are going to Great Wolf Lodge for a few days. After that we'll take the boys to the inlaws. I even asked my mother in law if she'd keep Avery this time too! But only for 2 weeks, and only if he'll stay. I won't force him, since he's still so young. And I don't want him to miss a full summer of speech therapy, so he won't stay all summer. But the two older boys will be there from July 1st until the middle of August again.
And you know what? They
love it
. It isn't like they want to stay home either. They love being up at their grandparents house. My inlaws live on quite a few acres of land. They have 4 wheelers and a river they take the boys to swim in. The boys have a blast. They always hit the carnival with the boys before they bring them home.
And I enjoy a nice summer without the screaming and fighting. But I miss them like crazy.