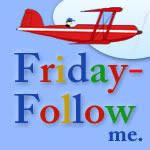 hello there!! Glad to have you visiting my blog. If you're here from Friday follow or Friday Blog Hop, please pull up a chair, grab a cup of coffee and have a look around! This blog has a little of everything. You'll find happiness, tears, stress and all that!
You'll see that sometimes I tell it like it is and you'll love me for it I'm sure :)
I have a guest blogger today too!! Go check out
Birthday Party Dilemma
the blog from my Guest Blogger
Mommy Loves Stilettos
! If you haven't read Michelle, what are you waiting for?? She's awesome! And she's having a
giveaway
going on right now!