Linking up with Shell again this week to Pour My Heart Out. Click the picture and read others who are pouring their hearts out too.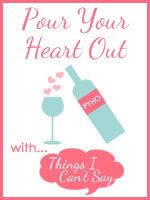 So are you guys sick of hearing my feelings on a 4th boy yet?? I'm sure you are. I know I'm tired of moping around and writing about it all the time.
For those that don't know...I went yesterday for the anatomy sonogram. During the sonogram we found out we'll be having boy #4. I knew that was a possiblility. This pregnancy was completely unplanned, unexpected, and not even in the realm of our thoughts. I was on the Nuvaring when I got pregnant. I hadn't had a period is almost 3 months despite changing my ring like I was supposed to and I decided to go to the doctor. I wasn't expecting to hear "you're pregnant" but that's exactly what I heard. To say I was shocked would be an understatement. During my c-section with my 3rd son I was told there were a lot of complications and that a 4th pregnancy would be dangerous. And now that was exactly what I was told was happening. A 4th pregnancy.
If
I had planned this 4th pregnancy I would have swayed my odds or kept track of my cycles to best choose my ovulation days. But there would be none of that. I was pregnant!
In my mind I kept telling myself "maybe this was my way to get a girl" "obviously this was meant to be! It must be my girl!" I kept saying "this pregnancy is so different then the other three. It has to be a girl!" Even my husband was saying "I have a feeling this one is a girl." During the sonogram I was looking at the baby on the screen and told the sonographer "I don't see anything between those legs!" and I said to her "Be nice to me! Tell me it's a girl!"
I think she knew the entire time that it was a boy though. She was saying things like "well you don't see anything between the legs because the legs are closed" and "well we'll see, But it's not my fault, it would be
his
fault (pointing at my hubby). That should have been my first clue. But in my head I kept saying "she just wants to surprise me." "she just wants to show me a great shot of the girl money shot." etc etc.
So when she showed another angle of the legs and said "do you see anything between the legs now?" and I saw what I saw I still was in disbelief. I was looking
so hard
to not see anything that I think I sort of blocked out the penis there on the screen. My husband says it was clear as day. She then said to me "I'm sorry. I'm not very nice to you am I?" And the tears started to fall. Right there on the table I started to cry. I'm talking the big crocodile tears running down my face with my stomach bouncing with each breath I took. I was trying
so
hard to hide it. She was having trouble getting other pictures because my belly kept moving with my tears. I was trying to hold my breath so she could get more pictures. And to her credit she was trying to make me feel better. She was saying things like "oh look how cute he is" and "look he's got his fists already out ready to fight".
I try to explain to people I'm not mourning the fact that it's another boy. I'm mourning the fact that I'll never have that daughter I've always dreamed about. I'm not sad at the fact that I'm having another boy. I'm sad at the fact that I'll never get to experience the girl things.
I
love
my boys. I
love
having boys.
I think maybe if I could do some shopping I might feel better. Maybe if I got a few "boy" things in the house I could get more excited. We threw everything baby/infant related away since there were no plans for another baby. So really we need to start all over.
The words of my mother still echo in my head from after I had my third son "Just another boy, nothing special about him." And I worry. If he was "just another boy and nothing was special about him, how will everyone feel about yet
another
boy?"
I know to
me
he'll be special. But will he be ignored by everyone else as "just another boy." I mean hell he'll be the 6th grandson on each side of the family. Nothing special about that huh?
and here I go crying again so I'm going to end this now.
Back to your regularly scheduled happy entries soon I promise.