I'm linking up again for Letters of Intent Friday! Go check out more letters over at
Foursons
by clicking the picture below!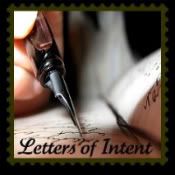 Dear Husband,
I don't think you understand just how much you are irking me lately. Yes you're right, our two older boys are with your mom this week for spring break so I only have Avery (the 3 year old) home with me. Yes you're right that with 2 of the 3 gone it's a lot easier on me. Yes you're right that things are less hectic around here.
But let me tell you something. I have EVERY right, I have DESERVED to slack off this week. Yes you're right, the laundry hasn't been done, I haven't steam cleaned the couch like I said I was going to, I haven't cleaned the bathrooms, and I haven't mopped the floors. I have spent a GOOD PORTION of this week sitting on my butt.
Just because I haven't done everything you've wanted me to do, doesn't mean I haven't done anything at all. I DO still have a 3 year old here with me. A 3 year old that needs a little more attention then just turning on the TV and leaving him sit there. A 3 year old that STILL has therapy and appts and stuff to take him to.
How dare you act as if I haven't done ANYTHING this week. I deserve to take a week off when I finally after 6 months get a break. I still have cleaned up, and vacummed and I have still taken care of things around here. Just not to the extent that YOU think is ok.
Do me a favor, and until you are home all day long with 3 kids (one of which has issues that need to be dealt with) don't tell me what I should and should not be getting accomplished during the day.
Sincerely,
Your loving wife who is about to bop you upside the head with your "to do" list you left me this morning.