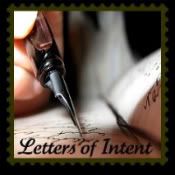 Linking up for Letters of Intent! Click the picture above to read more letters and join while we laugh, cry, and scream.
Dear Speech Therapist:
This isn't the first "letter of intent" I've written to you. After 20 min of my son screaming bloody murder in the room, yes I DID open the door. When you told me "I think it's best if you stay out." I left again. After 45 min of him screaming bloody murder I was DONE. I am NOT paying you all that money for him to spend the entire hour screaming and crying while you do nothing but say "ok, when you're done crying you can come play." Yes I said that to you too. And yes, I DID leave without paying you. My son who is usually so easy to "bring back" after a shut down has now spent the last 40 min since being home not even looking at me, and sitting by himself in the other room. Thanks! Thanks for absolutely nothing.
Sincerely,
The woman who isn't going to let her son scream for an entire hour
Dear Husband,
When I call you because I'm tired of listening to our son scream bloody murder in the therapists office it would be nice if you answer your phone. When you DO finally call back and I'm now at home, when I start telling you about therapy it would be nice if you didn't completely act like nothing is wrong. Telling me "well he's not going to have a perfect day everyday" doesn't help. Telling me it's my fault because he plays his DS to much, or telling me I obviously did something that set him off, doesn't help. You're son has special needs. He has sensory integration, speech apraxia, motor planning problems, and some low tone. He isn't PERFECT. I never said he was perfect. But him having a "bad day" has nothing to do with something I am or am not doing. Thanks for making me feel like absolute shit.
Sincerely,
The woman who just wants to smack you right now
Dear Self:
You've shed enough tears about Avery to last a lifetime. No need to shed anymore. But seriously, what were you thinking having another baby when Avery has so many issues and still needs so much? Are you looney??
Sincerely,
The "man in the mirror"
Please check out this important Blog Entry! Click
HERE
to read about something near and dear to my heart!