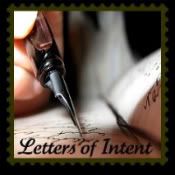 It's time for a few "letters of intent" today! It's been a while since I've done an entry like this! I'm linking up with
Foursons
for my letters today!
Dear Old Pediatrician,
After hearing you tell me "let it run it's course" for over 3 weeks I had my 2 month old seen by a different pediatrician. It was then that he was diagnosed with RSV and Bronchialitis. That was your last straw. We will now be seeing the new pediatrician.
Goodbye!
The lady who is sick of feeling like she's going crazy when she calls you and is told nothing is wrong.
Dear Preschool Teacher:
It's been 2 weeks and I'm still upset About Avery having his snack taken away for "not saying Hi to his friends". When a child has a communication disorder like Apraxia the last thing you should do is take away his snack for not talking. Don't let me hear that it happened again, or there will be hell to pay.
Signed,
A mother you don't wanna mess with
Dear Refridgerator repairman:
Seriously where do you get off telling a mom of 4 boys that I don't know true love until a daughter climbs up in your lap and says "I love you." I guarantee you that it's pretty much the same as when one of my boys do it, just in a higher pitch voice.
Jerk!
Signed the woman who has to pay your invoice so I'd watch your mouth.
To read more "letters of intent" Click the picture at the top of this entry!!